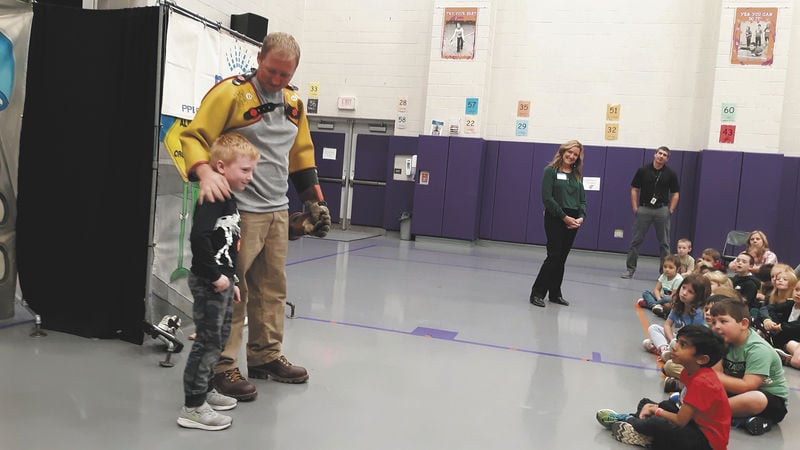 DANVILLE — By portraying an alien and an investigator, actors from the National Theatre for Children taught students how to be safe around electricity Monday.
Madeline Campbell and Abilene Olson, of the National Theatre for Children, presented "Agents of Safety" programs, sponsored by PPL Electric Utilities, in the Danville Primary School and at Liberty Valley Intermediate School.
Tracie Witter told the children that power provided by PPL can be very dangerous and the program would show them how to be safe around electricity.
"You're going to learn a lot and laugh even more," she said at the primary school. Witter serves as regional affairs director for PPL.
She introduced special guest Kevin McWilliams, a PPL lineman who showed some of the equipment he uses. His son Gavin, 6, is a first-grader at the school. McWilliams' nieces are first-graders. They are 7-year-old twins Anessa and Aunalee McWilliams.
During the show, Campbell said someone or something was making electricity dangerous and Olson, portraying an alien, removed "high voltage" signs.
Campbell said electricity can travel very easily through human bodies and advised students to keep electrical appliances away from water. "A hair dryer falling into a bathtub can shock or kill you," she said. Overloading an outlet can cause a spark or fire and they should never fly kites or climb trees near a power line, she said.
Witter said the free programs are being held at schools in Central and Eastern Pennsylvania with a goal of reaching 100,000 students in five years. From Oct. 14 through Nov. 8, more than 10,000 students at 30 schools will have seen the program.
As of Monday, more than 72,000 students had learned about playing safe around electricity, she said.
Teachers received workbooks to share with students.